Our Google Reviews
Author: Tony Rowe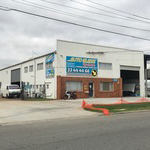 Please check out Our Lastest Reviews :
Chris Hicks-a week ago-Excellent service. All staff were extremely friendly and helpful. The rear window only took 20mins to replace. We rang a lot of places to get the best price and was worth the 30 minute drive for the great value pricing and A1 customer service. Thank you. Highly recommend.
Paul Ryttersgaard-a week ago-I was referred to Auto Glass Warehouse by another glass company who was unable to do the job I needed done. I got there, inquired about the fix I needed, and was on my way within about 15 minutes. Great Staff, Great Quality, Great Value. Very Happy
vicki muhling-a week ago-Awesome service, could not have asked for any better help.
Beneaththebeneath-4 weeks ago-Have used these guys twice now for car window and windscreen replacement. Fast and professional service and excellent prices
Paul Coghlan-a month ago-Found the door window I needed for a 25 year old car on their website. Rang to confirm stock; very helpful. Placed an online order. Received the item 3 working days later; $95 + $7 postage for supply. Another '"supplier" quoted me $272 for supply and fit with one week wait time. Took me 45 mins to remove shattered window and fit the new one. Happy customer!!
Brenton Slattery-2 months ago-Autoglass warehouse were awesome. Called to check for a side window for my van. Turned up when I could without an appointment. Also saw they did custom cut mirrors for $45 so added that as well. All in all took about 40 minutes to replace the glass and cut the mirror. They even put in a laminated piece of side window so it doesn't shatter when hit as I ride a bike and had it in the back. Free of charge as well. Lovely staff. Amazing service would always recommend.
Danielle Pommer-6 months ago-I took my car in after my drivers side window had smashed into a million pieces. Within the first 5 minutes the tech told me that my window regulator was bent and that this would cause repercussions in the long run if we didn't fix it. He mentioned that he wasn't sure if they had a spare regulator for my type of car but he'd have a look anyway. After about 20 minutes he told me it would cost around $300 elsewhere but he said he would fix it for $100 as he had a spare one lying around. 45 minutes later everything was fixed and it was like my car door was brand new again, he even glued a panel that had fallen off back on for free!! For the glass & regulator replacement he charged me $300 when I was quoted $600+ for just the window at another company.
The man and receptionist were both lovely and I couldn't recommend these guys any more, if I ever have any more issues with my car I know where I'm going. thankyou!!!
Our Coopers Plains Building Link